Samuel "Sam" J. Martinez III
Samuel "Sam" J. Martinez III of Helena, died peacefully on Thursday, Feb. 3, 2011. He was born Dec. 24, 1952, in Tulsa, Okla., to parents Samuel J. Jr. and Alice L. Rausch.
He was preceded in death by his father.
He married Theresa Schuller on April 26, 1986; they were divorced in March 2008.
Survivors include his son, Joseph W. Martinez of Helena; mother, Alice L. Martinez of Tulsa; brothers, Robert L. Martinez of Chicago, David Martinez (Darlene) and Charles Martinez, both of Tulsa; sister, Luzetta (Lucy) Ennis of Athens, Ala.; nieces and nephews.
Sam was active in Boy Scouts, amateur radio, folk dancing, caving and bat research, and his church, First Church of Christ Scientist. His passion was Yellowstone National Park and the geysers.
A memorial service and potluck was held on Sunday, Feb. 20, 2011 at 5 p.m. at Our Lady of the Valley Church.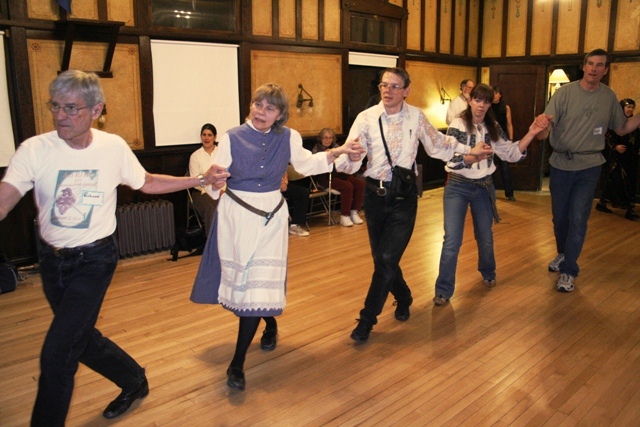 Tribute to Sam
I first met Sam at Steam and Stomp 2002. At that time I brought my video camera and let it run, recording up to 6 hours of all the dances done at the dance party. As the night went on, the place would thin out, and by 1 am very few were left. I was amazed at all of the dances Sam could remember. Sam would continue to dance. Many, but not all, of the dances listed below are from the wee hours. It is my intention to over time add links to YouTube of these dances.
Acano Mlada Nevesto -Macedonia
Aino Kchume - Assyria
Arcanul -Romania
Austrian Drjesteirer -Austria
Avrameanca - Moldavia, Romania
Azul Cielo -Mexico
Balta -Romania
Barbatesc din Ieud -Romania
Briul de la Fagaras -Romania
Briuletul -Romania
Bunjevacko Momacko Kolo -Croatia
Cekurjankino Horo -Bulgaria
Daronee Yerker Yev Barer -Armenia Azgagragan
Debka Ud -Israel
Dospatsko Horo -Bulgaria
Familie Sekstur -Denmark
Flying Dutchman Polka -?
Gavotte d'Honneur -Brittany
Godecki Cacak -Serbia
Hora Habik'a -Israel
Iste Hendek -Turkey
Jo Jon -Armenia
Mach -Poland
Magyar Verbunk -Hungary
Makedonikos Horos -Macedonia/Greek
Maloj Mome -Macedonia
Mihanikos -Greek
Mindrele - Romania
Misirlou - Greek American
Miteritsa -Greek
Novo Zagorsko -Bulgaria
Oberek Na Lewo -Poland
Oberek -Poland
Od Lo Ahaovti Dai -Israel
Olahos - Hungary
Padushko - Bulgaria
Pasarelska -Bulgaria
Rumunjsko Kolo -Serbia
Salcioara -Romania
Schioapa- Romania
Sedi Donka -Bulgaria
Serba din Cimpoi -Romania
Serba din Slatina -Romania
Serba Pe Hop -Romanian/American
Sirba din Cimpoi -Romania
Sirba din Slatina -Romania
Sirba pe Loc -Romania
Somogyi Kanasztanc -Hungary
Song of Joy (Hasapiko)-Greek
Staro Vranjanka -Macedonia
Strumicka Petorka -Macedonia
Tarina de la Abrud -Romania
Trei Pazeste Batrinesc -Oltenia, Romania
Trei Pazeste De La Bistret -Oltenia, Romania
Village Chetvorno -Bulgaria
Zillertaler Landler -Austria
Comments, and suggestions are welcome. Your stories can be added to this web page too.
Please send to rogerpbury AT yahoo DOT com