A view of Boulder Hot Springs as seen from the 7 Generations Hill, located to the south.
Steam and Stomp 2014
Warm ups
Mori Odajo
Mari Mariiko
Devojko Mari Hubava
Vava Vadmal (weaving dance) Swedish music but is a Norwegian dance Amanda and Cecelia taught. Here is Vava Vadmal, performed by the Scandia Dancers of Southern CA
Dance from Plav
Ordu
Gori More
Changerais-tu?
Le Laride
Trind Polska
Siriul
Hine Ma Tov
The warm up dancers
Bill greeting everyone and getting the teaching started
Afternoon Teaching
| Dance | Country/Style | teacher | note or link to video |
| --- | --- | --- | --- |
| Tokyo Polka | Choreographed by Richard Powers. See Note* | Sally | video and PDF |
| Glava Li Ta Boli | Bulgaria | Sally | Short video |
| Hora veche | Romania, Muntenia | Eva | video |
| Gajdina Svirjat | Bulgaria, Rhodopes | Susan H | short video 9/8 qqqs |
| Shrewsbury Lasses | England | Mitchel | video from YouTube |
| Kritiko Serviko | Greece, Crete | Roger | video |
| Sabrali sa se, sabrali | Bulgaria, Rhodopes | Susan H. | Focus on styling |
| Dvoino horo | Bulgaria, Southern Thrace | Cecelia | Review |
| Vodeno Horo, quick review | Bulgaria, Thrace | Susan H. | short video |
Note* - "This version of Ievan Polka, or Ievan Polkka, is in Japanese, by Hatsune Miku. Tokyo Polka is the name of the dance, not the music, and this line dance was premiered in Tokyo." Richard Powers. The Savo Finnish tune Ievan Polkka , meaning Eva's Polka, is also known as Loituma's Polka and Leva's Polka. Here is a wonderful comic video of Finnish lumberjacks playing the same melody and dancing to it.

Just for fun, here are the Lyrics to Ievan Polka.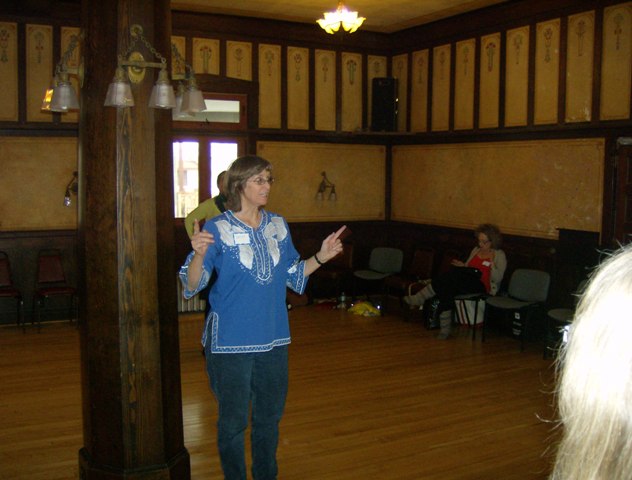 Sally beginning to teach the first of the two dances she introduced to us.
Eva leading Hora veche
A mix of opancis
picture Courtesy of Don S.
Party
Susan H. leading Gajdina Svirjat durring the Party
Arnautsko Horo
Opinca
Tankosava
Gori More
Erev Ba
Be'er Basadeh
Vodeno Horo
Glava Li Ta Boli
Nevesto Carven Trendafil
Zemer Atik
Trite Pati
Kritiko Serviko
Rustemul
Hineh Ma Tov
Ivanice
Hora veche
Hore pe Seshe
Ya da kalinushku lomala
Valle Nuseve Nga Korca
Prekid Kolo
Sepastia Bar

Bulgaria, Pirin
Romania
Serbia
Macedonia
Israel
Israel
Bulgaria
Bulgaria
Bulgaria
Israel
Bulgaria
Greece, Crete
Romania
Israel
Macedonia
Romania, Muntenia
Romaina
Russia
Albania
Serbia
Armenia
Live music Setnja is Back Band
Setnja
Joc Batranesc din Niculetel
Biserka
Zemer Atik
Anneli Waltzer
Adje Jano
Hambo
Miserlou
Oj Cvjetjot Kalina
Bonnie Cuckoo
Lover's Waltz
Back to recorded music
Valle Pogonishte
Tino Mori
Neda Voda Nalivala
Ordu'nun Isiklari
Shrewsbury Lasses
Sandansko Horo
Siriul
Sabrali sa se sabrali -men singing
Belasicko Oro
Tokyo Polka
Changerais-tu (Would you change), andro retourne
Tsamikos
Dobrudzanska Reka
Lakodalmi Tanc
Pols Rorospols
Ciganja
Gaida
Gajdina Svirjat
Sitna Zborenka
Baztan Dantza
Karagouna
Dobrudzanska Pandela
Sukacko Kolo
Dance from Plav
Floricica Olteneasca
Bela Rada
BaPardess
Hora Cheffer
Lepa Moja Milena / Drmacica
Schioapa
Sej Sej Bob
Louky
Mori Odajo
Narino
Sestorka
Cocek (Djulijano Djulijano)
Vrni Se Vrni (Come Back, Come Back)
Rezijanka
Newcastle
Vranjanka (Sano Duso)
Briuletul
Bastan-Dantza

Albania
Macedonia
Bulgaria
Turchia (Turkey)
England
Bulgaria
Romania
Bulgaria
Macedonia
USA
Brittany
Greek
Bulgaria
Hungary
Norway
Gypsy
Aroman
Bulgaria, Rhodopes
Bulgaria
Basque
Greek
Bulgaria
Croatia
Montenegro
Romania
Serbia
Israel
Israel
Croatia
Romania
Bulgaria
Czech
Macedonia
Turkey
Serbia
Romanian Gypsy
Macedonia
Slovenia
England
Serbia
Romania
Basque
picture Courtesy of Don S.
picture Courtesy of Don S.
picture Courtesy of Don S.
picture Courtesy of Don S.
Sunday
Michael reviewed PaPardess and Bastan-Dantza.
BaPardess
Barnerheinlender
Kol Dodi
Kritiko Serviko
Dance from Plav
Zemer Atik
Avant Deux De Travers
Dance Above the Rainbow
Gankino Horo (3)
Sukacko Kolo
Sej Sej Bob
Le Laride
Briuletul
Cetvorno Shopsko Horo
Kritiko Serviko
Glava Li Ta Boli
Gajdina Svirjat
Vodeno Horo
Tokyo Polka
Hora veche
Sabrali sa se sabrali -men singing
Chilili
Ciganja
Bastan-Dantza
Shrewsbury Lasses
Vrni Se Vrni (Come Back, Come Back)
Sadi Moma
Fairy Reel (Pat King)
Rezijanka I and II
Hora Cheffer
Sharma Shiekh
Langdans fran Solleron
Jove Male Mome
Kulsko Horo
Miss Alison Rose
Dospatsko Horo
Vava Vadmal (Weaving Dance)
Nama Lesnoto Medley

Israel
Norway
Israel
Greece, Crete
Montenegro
Israel
France
Ireland
Macedonia
Croatia
Bulgaria
Brittany
Romania
Bulgaria
Greece, Crete
Bulgaria
Bulgaria, Rhodopes
Bulgaria
USA
Romania, Muntenia
Bulgaria
Bulgaria
Bolivia
Gypsy
Basque
Macedonia
England
Macedonia
Bulgaria
Irish
Slovenia
Israel
Israel
Sweden
Bulgaria
Bulgaria
Caledonian
Bulgaria
Sweden
Macedonia
Seven Generations by Frederick Franck
Safe journeys on the way home, in our snowy Montana winter of 2014