Steam and Stomp 2016
Warm ups
Adjon as Isten
Slow Singing Pravo
Batrineasca
Baris Halayi
Iste Hendek
Ispayche
Rusi Kosi
Minka

Hungary
Bulgaria
Romania
Turkey
Turkey
Bulgaria
Bulgaria
Bulgaria
Bill Welcoming us to Steam and Stomp 2016
Afternoon Teaching
| Dance | Country/Style | Teacher | Note or link to video |
| --- | --- | --- | --- |
| Cepelarsko Horo | Bulgaria | Susan H | Video Susan learned this from Yves Moreau. This brief clip is of Yves Moreau leading at a WS in 2009 |
| Mascatii | Romania | Eva | Video |
| Ciganko | Bulgarian Gypsy | Sally | Video|Words |
| Hora Cheffer | Israel | Michael S | No video only syllabus |
| Hole In The Wall | English | Mitchell | No video, Mitchell taught the Minuet footwork |
| Drjanovska Racenica #2 | Bulgaria | Susan H | Susan learned this from Yves Moreau. I did not video Susan but as a substitute found this Video of a teacher demonstrating to a Princeton FD group. Princeton NJ Folk Dance |
Taught on Sunday
Dance
Country/Style
Teacher
Note or link to video
Ne Klepeci Nanulama
Bosnia
Sally
Video | syllabus | Words
Pentozali
Greek
Bill

Bill teaching at Steam and Stomp 2003. 4 clips, (Sorry for the poor quality.)

Karen Faust, at the time of this video, lived in Fayetteville, Arkansas. She is a superb dancer. For those who knew them Sam Martinez and his wife participated with the Fayetteville group. Here Karen quickly runs through many variations of Pentozali, starting with the basic step progressing through more complex. Each variation done twice.Video

Rezijanka I
Slovenia
Michael S, and Ann
Other Dances just for fun
| Dance | Country/Style | Leader | note or link to video |
| --- | --- | --- | --- |
| Megdansko Horo | Bulgaria | Cecelia | Video |
| Gocino Kolo | Serbia | Sally | Video |
| Armenian Turn | Armenia / USA | Bill | Video |
Eva teaching Mascatii
Party
Siriul
Seta
Ma Navu
Damat
Pravo Čepelarsko
Cocek (Djulijano Djulijano)
Talima
Hora Cheffer
Glava Li Ta Boli
Rezijanka
Mori Odajo
Aghchka Jerazanke
Bregovsko Horo
Ciganko
Salty Dog Rag
Tankosava
Sitna Zborinka

Romania
Serbia
Israel
Turkey
Bulgaria, Rhodopes
Romanian Gypsy
Bulgaria
Israel
Bulgaria
Slovenia
Macedonia
Armenia
Bulgaria
Bulgarian Gypsy
USA
Serbia
Bulgaria
Eva leading
The Band Set
Trind Polska
Vulpiuta
D'r Maia
Hodila mi je Bojana (pravo)
Misirlou
Anneli Walzer
Tino Mori
Biserka
Zemer Atik
Mana Vu
Vranjanka
Transtrand Hambo
Joc Batranesc din Niculetel
Oj Cvetjot Kalina
Joc de Leagane
Lovers' Waltz

Finland
Romania
France, Alsace
Bulgaria
USA/Greek
Switzerland
Macedonia
Serbian
Israel
Israel
Serbia
Sweden
Romania, Dobrogea
Russia
Romania, Maramures
USA
Happy Susan
Susan receives a Card signed by everyone wishing her all the best in her retirement!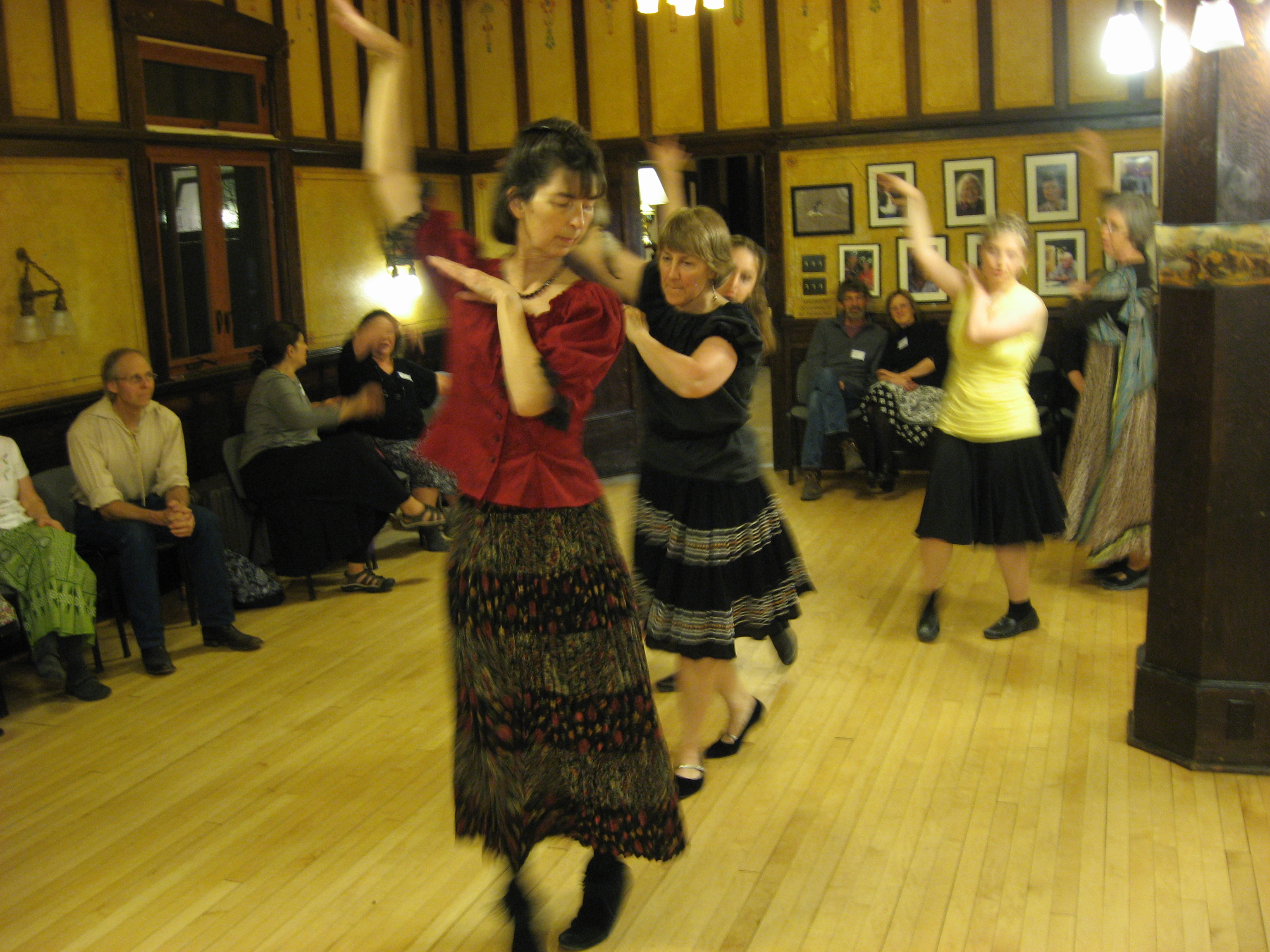 Julie leading Aghchka Jerazanke, an Armenian dance she learned from Tineke van Geel.
Back to recorded music
Bonny Cuckoo
Hole in the Wall, The
Bastan-Dantza
T'Filati
Sborinka (Max's)
Mascatii
Zensko za raka
Vulpiuta
Drjanovska Racenica 2
Rustemul
Kritiko Serviko
Ciganja
Sweet Girl
Newcastle
Dana
Opinca
Teen
Belasicko Oro
Sabrali sa se, sabrali
Bavno Oro
Kopacka
Sandansko Horo
Vayiven Uziyahu
Cobankat
U Sest 1
Kadino selsko
Bicak
Gavotte d'Honneur
Tsamikos
Vodeno Horo
Nevrokopsko Horo
Sirba de la Slatina
Sestorka
Birchot Havdalah
Gocino Kolo
Batrineasca
Alunelul de la Urzica
Dramskato (Dujni Mi Duini)
Trite Pati
Cetvorno Shopsko Horo
Sitno Malisevsko
Pentozali

England
England
Basque
Israel
Bulgaria
Romania, Moldova
Macedonia
Romania
Bulgaria
Romania
Greece, Crete
Gypsy
Armenia
England
Romania
Romania
Armenia
Macedonia
Bulgaria
Macedonia
Macedonia
Bulgaria
Israel
Albania
Serbia
Macedonia
Bulgaria
Brittany
Greek
Bulgaria
Bulgaria
Romania
Serbia
Israel
Serbia
Romania
Romania
Bulgaria
Bulgaria
Bulgaria
Bulgaria
Greek
Ann
Saturday Evening Requests
Saturday night party continues, Must be about 11 pm. Amanda Leading
The Midnight dancers. Sally leading
Derek, Bill, Amanda, Cecelia, Sally, and Roger taking the picture
Sunday
Maître De La Maison (Master of the House)
Raca
Djado mitjovata
Tamzara
Pravo Čepelarsko
Pravo Horo (slow pravo)
Sestorka
Hora veche
Armenian Turn
Ciganko
Gocino Kolo
Sopsko Horo
Pentozali (Bill's)
Pentozali (Bill's) slowed 10percent
Ne Klepeći Nanulama
Ne Klepeci
Vrni Se Vrni (Come Back, Come Back)
Cekurjankino Horo
Mascatii
Rezijanka I
Strumicka Petorka
Drjanovska Racenica 2
Chilili
Megdansko Horo
Godecki Cacak
Novo Zagorsko
Trite Pati
Sepastia Bar
Horehronski Csardas
Pentozali (Bill's)
Miss Alison Rose
Devojce, Devojce
Gori More
Hora Cheffer
Birchot Havdalah
Dvoino horo
Nama Lesnoto Medley

France
Serbia
Bulgaria
Armenia
Bulgaria
Bulgaria
Serbia
Romania, Muntenia
Armenia
Bulgarian Gypsy
Serbia
Bulgaria
Greek
Greek
Bosnia
Bosnia
Macedonia
Bulgaria
Romania, Moldova
Slovenia
Macedonia
Bulgaria
Bolivia
Bulgaria
Serbia
Bulgaria
Bulgaria
Armenia
Slovakia
Greek
Caledonian
Macedonia
Macedonia
Israel
Israel
Bulgaria
Macedonia
Dancers
Thanks to Cecelia for providing the following list of dancers. Thanks to Bill and Sally for welcomed comments and needed corrections. If anyone is left out, please let us know.
Helena

Bill
Julie
Scott
Rebekkah
Kent
Derek
Sara
Cedron
Sharon
Chris

Bozeman

Susan
Richard
Cecelia
Mary
Amanda
Moria
Jenna
Carrie
Lance
Hallie





Oregon

Sally
Alan
Patty

Colorado

Jude
Terri

Washingtom

Mitchell
Milhea

Missoula

Michael
Ann
Vikki R
Bert
Sonja
Susan C
Roy C
Mary

Butte

Noor Jahan

Phillipsburg

RomNee
Ocean
Marguerite ?

Kalispell

Max
Eva
Roger
Sharon
Lauren
Connie
Denise
Russ
Missy








Until next time
Roger