Stamp and Camp 2008

Howdy Dancers,


Thanks to everyone who took part in the 5th annual Stamp & Camp, brought all the great yummy food and handled all the
logistics.  Thanks especially to Marvin for hosting the Saturday night potluck at his home, and to Missy and Russ for
hosting campers and breakfast, providing main dishes and generally making it all happen. We had two dozen
participants, learned some new dances, refreshed on some others and generally had a great time.

Joe has put some great photos on his web site. Check them out at http://home.centurytel.net/JF/S%20&%20C,%202008/ 
Here are a select few. 

Don, Maryann, Bill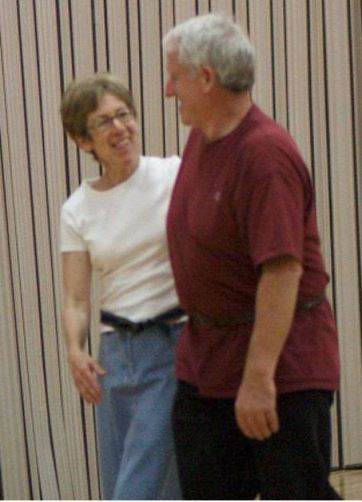 Missy and Russ
Susan, Mike, Ann
DANCES SATURDAY AFTERNOON 06-28-08

Cekurjankino Horo       	Bulgaria
Floricica Olteneasca 		Romania
Sharma Shiekh			Israel
Changerais-tu  			Brittany
Dobrudjanska Reka 		Bulgaria
Trite Pati   			Bulgaria
Stiga Mi Sa Momne Le 		Bulgaria
Devojce, Devojce  		Macedonia
Be'er Basadeh   		Israel
Kasapsko Oro  			Macedonia
Strumicka Petorka  		Macedonia
Tervelska Raka  		Bulgaria
Nitzanim dance speed 		Israeli
Skudrinka (Dzangurica) 		Macedonia
Djado mitjovata   		Bulgaria
Dance Of Ikaria  		Greece
Kulsko Horo  			Bulgaria
At Ve'Ani    			Israel
Le Laride   			Brittany
Gerakina   			Greece
Bapardess  			Israel
Baris Halayi  			Turkey
Gori More  			Macedonia
Zaplanski Cacak			Serbia  
Avant-Deux du Poitou 		France
Ravno Oro   			Macedonia
Sitno Malisevsko  		Bulgaria
Sopsko Horo  			Bulgaria
Narino   			Turkey
Opinca   			Romania
Joc de leagane (Maramures) 	Romania
Sborinka    			Bulgaria
Iste Hendek    			Turkey
Eten Bamidbar  			Israel
Vlasko Horo  (short version) 	Bulgaria
Vlasko  (long version)  	Bulgaria
Vossarul    			Norway
Avant-deux de Travers 		France
Senjacko (Senjac^ko) Kolo   	Yugoslavia
Biserka   			Serbia
Changerais-tu  			Brittany
Ma Navu   			Israel
Cimpoi   			Romania
Vranjanka  			Serbia
Cobankat   			Albania

Maryann
Julie, Sara, Marvin
Connie, Mickala
DANCES SATURDAY NIGHT PARTY

Nama Lesnoto Medley 		Macedonia
Karagouna  odd ending 		Greece
Tino Mori   			Macedonia
Novo Zagorsko  			Bulgaria
Arap (Zajko Kokorajko) 		Macedonia
Orijent                      	Serbia
Kyustendilska Ruchenitsa	Bulgaria 
Mori Odajo  			Macedonia
Kol Dodi   			Israel
Savila Se Bela Loza 		Serbia
Cukanoto 			Bulgaria
Ciuleandra  			Romania
Strumicka Petorka  		Macedonia
Cekurjankino Horo  		Bulgaria
Karagouna  			Greece
Bufcansko (Bufc^ansko) 		Macedonia
Sandansko Horo  		Bulgaria
Dance Above the Rainbow 	Ireland
Jiana   			Romania
Sweet Girl  			Armenia
Harmonica   			Israel
Ma Navu    			Israel
Changerais-tu  			Brittany
Sestorka   			Serbia
Juice of Barley  		England
Rustemul   			Romania
Somogyi Karikazó  		Hungary
Bregovsko Horo  		Bulgaria
Rezijanka I and II  		Slovenia
Cetvorno Sopsko Horo 		Bulgaria
Hora Cheffer			Israel
Joc batranesc de la Niculitel 	Romania
Petrunino Horo  		Bulgaria
Pata Pata		 	South Africa
Tamzara   			Armenia
Heya Heya  			Israel
Cocek (Brass)  			Macedonia
Sparf Fars Polska (Hambo) 	Sweden
Briul De La Fagaras 		Romania
Dospatsko Horo  		Bulgaria
Sepastia Bar   			Armenia
Sitna Zborenka  		Bulgaria
Sharma Shiekh  			Israel
Jove Malaj Mome  		Bulgaria
Ripna Maca  			Bulgaria
Erev Ba   			Israel
Floricica Olteneasca 		Romania
Mom Bar   			Armenia
Bavno Oro    			Macedonia
Siriul -long  			Romania     
Moja Diridika  			Croatia

Ann, Roger, Missy, Russ
Sara, Eva, Scott
DANCES SUNDAY

Nama Lesnoto Medley 		Macedonia
Gori More  			Macedonia
Legnala Dana  			Macedonia
Dance Of Ikaria  		Greece
Jove Male Mome    		Bulgaria
Narino   			Turkey
Kyustendilska Ruchenitsa	Bulgaria 
Slow Singing Pravo  		Bulgaria
Eten Bamidbar  			Israel
Jovano Jovanke  		Macedonia
Ajde Jano  			Serbia
De-a Lungul  			Romania
Divcibarsko Kolo 		Serbia
Hora Cheffer			Israel
Dobrudjanska Reka 		Bulgaria
Dance Above the Rainbow 	Ireland
Briuletul   			Romania
Avant-deux de Travers 		France
Biserka   			Serbia
Trite Pati   			Bulgaria
Drmes iz Zdencina  		Croatia
Devojce, Devojce		Macedonia
Pentozali (Bill's)  		Greece
Plaka Hasapiko   		Greece
Prekid Kolo  			Serbia
Trite Pati   			Bulgaria
Belasicko Oro  			Macedonia
Vrni Se Vrni   			Macedonia
Tervelska Tropanka  		Bulgaria
Hora din Campie  		Romania
Narino   			Turkey
Bucimis (Buc^imis^) 		Bulgaria
Lakodalmi Tanc    		Hungary
Birchot Havdalah  		Israel
Aghchka Jerazanke 		Armenia
Powolniak  			Poland
Avant-Deux du Poitou 		France
Zemer Atik  			Israel
Setnja   			Serbia
Dance from Plav  		Montenegro
Karsi Bar   			Armenia
Bufcansko (Bufc^ansko) 		Macedonia

DANCERS

1. Roger
2. Ann
3. Mickala and her son Ryan  (briefly) came back for the party with her husband Wes
4. Russ
5. Missy
6. Joe
7. Jackie
8. Mike
9. Susan
10. Bill
11. Kathleen
12. Max
13. Eva
14. Cecelia
15. Don
16. Rose
17. Connie
18. Maryann
19. Sara
20. Scott
21. Julie
22. Frank
23. Suzie
24. Evelin

Kalispell International Folkdancers will dance again Saturday July 5, 2008, at the Salvation Army church gym
at 110 Bountdiful Drive, Kalispell MT 59901.

Cheers,

Don